Conversion rate is an essential metric to monitor if you want your online store or business to be a success. 
This guide will look at how to improve your website's conversion rate and convert more website visitors into customers. Conversion optimisation should be an essential aspect of your marketing strategy and can lead to increased sales if executed effectively.
What is a website conversion rate?
A website conversion rate shows the percentage of visitors to a website that completes the desired action, such as a purchase or subscription.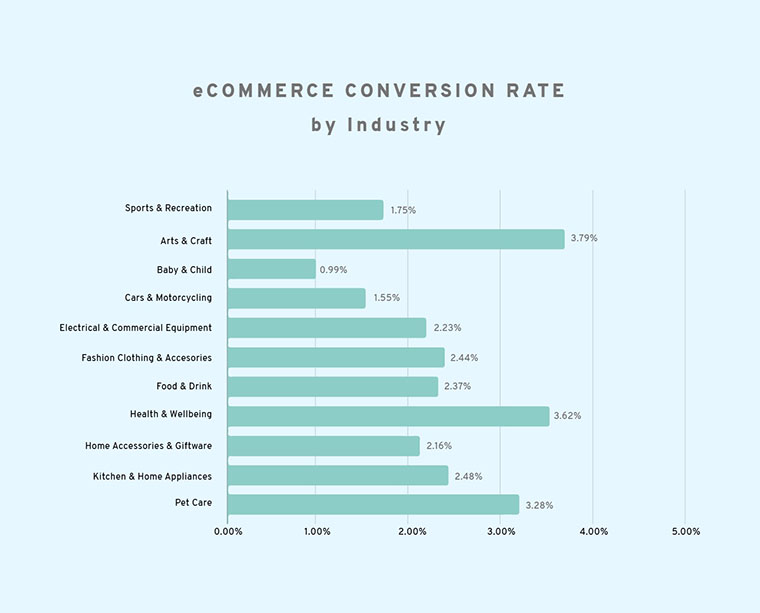 Image credit: Convertcart via Growcode
An essential factor is to understand your potential customers. Knowing the customer journey will enable you to align your content marketing approach better and streamline your user experience.
How to calculate website conversion rate?
A simplified formula to calculate the current conversion rate is to divide the number of conversions by the total number of site visitors, then multiply it by 100 to get your percentage.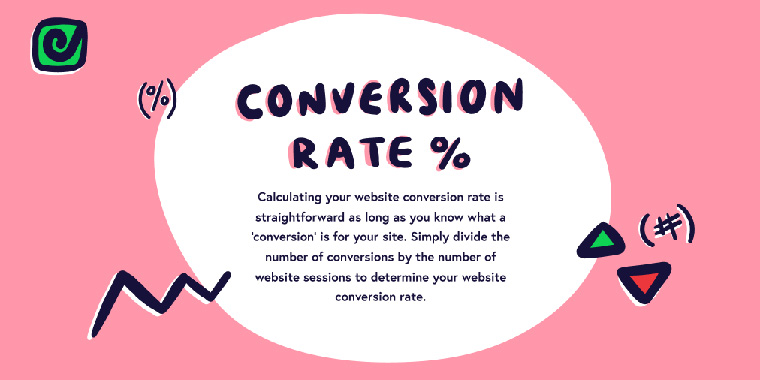 Image credit: Geckoboard
For example, if you had 400 site visitors to your site in a month and made 21 site conversions, the conversion rate is 21 divided by 400, multiplied by 100 = 5.25%
A reasonable conversion rate depends on several factors. It varies depending on industry, target audience and what kind of conversion you're seeking – a sale, subscription to emails, etc.
An overall average conversion rate lies somewhere between 2-5%. Though it's good practice to research the average rates in your industry, a better practice would be to understand how a website visitor interacts with your site. Doing this will help you to optimise your website to boost conversions.
How do you fix a low conversion rate?
If there aren't enough incentives to take action for your customers — no call to action (CTA) button, for example — your website's conversion rate will take the hit. A low conversion rate could be down to several factors. It could be anything from landing pages, loading times, website design or checkout process.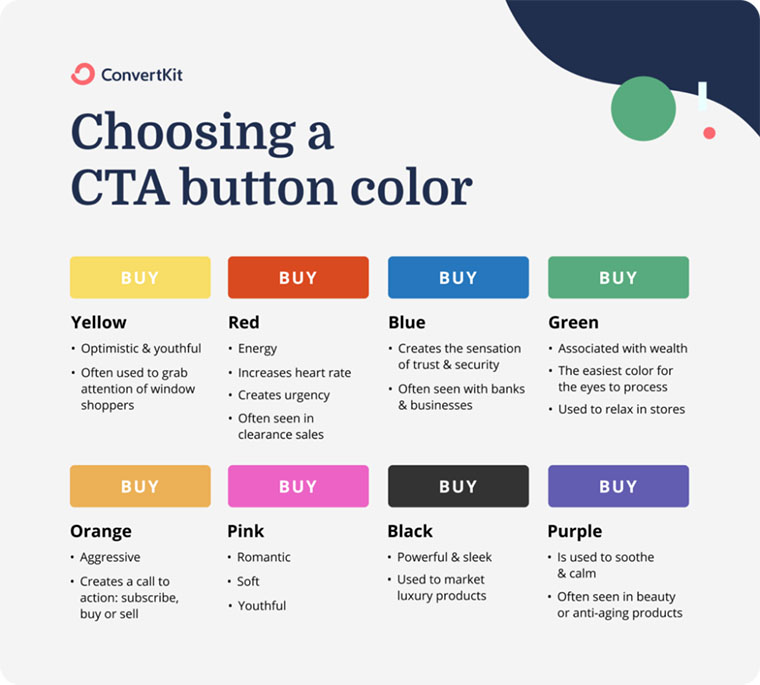 Image credit: Newoldstamp
Increased website traffic does not automatically equate to improving your conversion rate. While it is vital to attract visitors to your site, you'll see higher bounce rates if you are not keeping those visitors' attention and aren't inviting them into taking action.
How can I increase my website conversion rate?
Here are some practical tips and proven methods to reduce cart abandonment and boost your conversion rates.
Step 1: Add a popup to your site
Consider adding a popup to your site to improve conversions, and as per Sumo, adding a popup to your site can be a quick way to increase your conversion rate. The average conversion rate for all popups is 3.09%.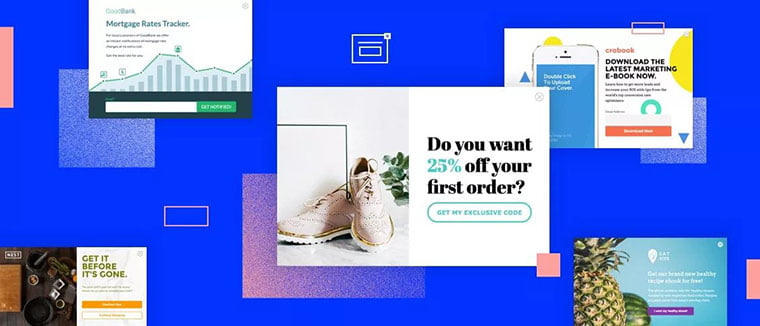 Image credit: Unbounce
Popups can include offers, a call to action or free stuff and can single-handedly increase conversions. It's essential to add a popup that isn't intrusive, is easy to close and doesn't appear immediately upon your site visit.
Step 2: Run A/B tests
Conducting A/B testing is a crucial tool to find out what works and what doesn't. Also known as split testing and used across Google Ads, social media, and other marketing campaign areas, test two different options against one another and see which works better.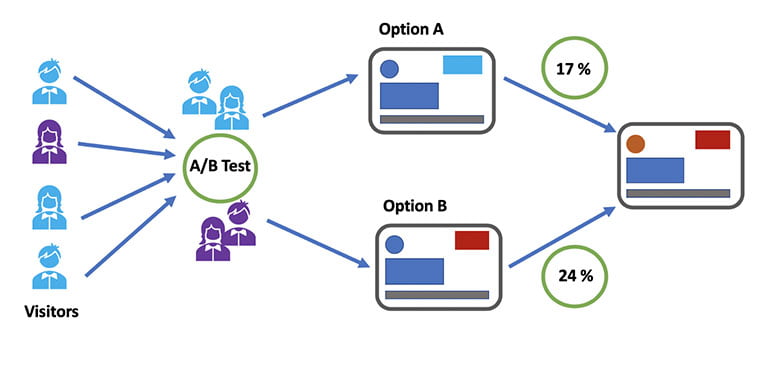 Image credit: Towards Data Science
People read headline copy more than they read the rest of your pages, so it's an excellent task to test your headlines to determine what works and what influences buying decisions best. 
Step 3: Remove distractions
Remove all unnecessary distractions from your site to avoid another abandoned cart! Knowing where people are clicking on your website once they've reached your landing page can provide the critical data you need for this. Platforms such as Crazy Egg provide a heat map of where visitors click on your website.
Suppose there's too much going on when visitors arrive at your websites, such as poor sales copy on product pages and too much extraneous, fluffy language. In that case, your customer engagement will be all over the place, and your landing page conversion rate will suffer.
Step 4: Remove unnecessary form fields 
Long contact forms are two examples of distractions that won't improve your conversions. People won't read and fill out the form that contains many fields. Keep it brief.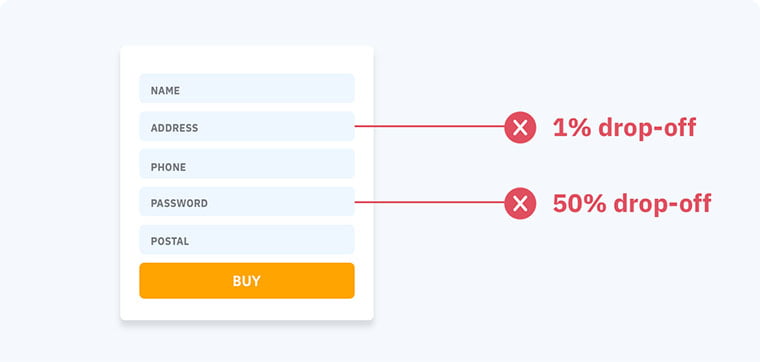 Image credit: Done&Tested 
Improve your site's online store, streamline your opt-in forms and the primary contact information needed, and increase your conversion rate in no time. 
Step 5: Add a live chat to your site 
Enhance your online presence with the addition of a live chat to your site. Often a potential buyer could be on the fence and require additional information before making a purchase, and answering questions in real-time can boost sales in no time.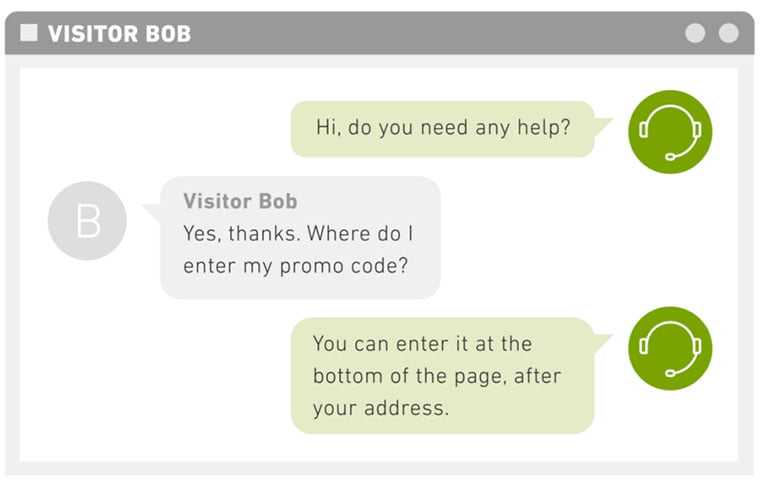 An excellent digital marketing tool to implement, a live chat feature can increase trust in your business, improve customer experiences, and improve your website conversion rate. 
A further benefit is that by collecting data through your live chat, you can inform your frequently asked questions and have more people ready to buy sooner.
How does CRO work?
Conversion rate optimisation (CRO) improves conversion rates by enhancing your website to increase lead generation.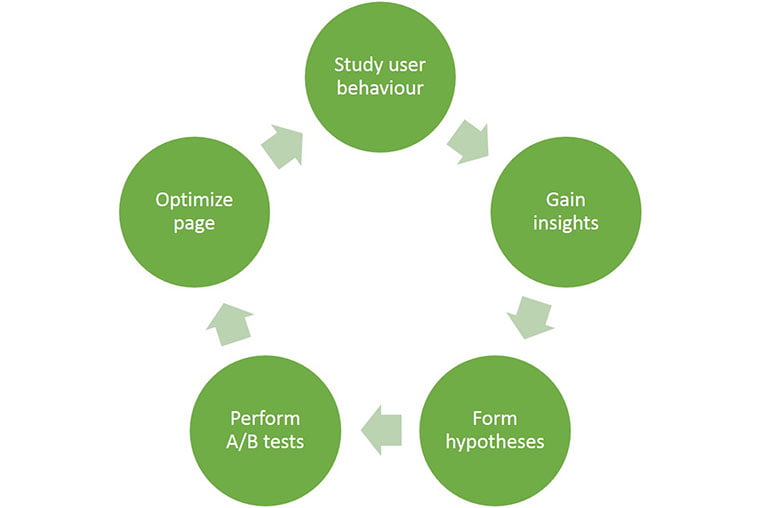 Image credit: WPEXPLORER
You'll increase your conversions once you've optimised your website and mobile site through content (I.e. blog posts), customer journey flow (reduced loading time), and a successful sales funnel.
Optimal conversions come from a host of factors:
Blog:

Knowing you are an expert in your field and have things to offer, the customer builds trust in your organisation, meaning trust to add a purchase to their shopping cart.

Home page:

The first impression customers have of your business must be clean and concise while also providing enough links to products/services to guide them through your site.

Optimised for mobile devices:

Most people make purchases on their smartphones. Optimising your site for mobile use is a surefire way to increase your website's conversion rate. 

Reducing friction in your conversion funnel:

If there are issues during any stage of the customer journey (awareness, consideration, and purchase decision), you'll be unable to optimise conversion rates.
Summing up
Implementing strategies as part of your overall online marketing approach is essential to improve conversion rates. Engaging in conversion rate optimisation means improving all aspects of your online presence. Your pay per click ads, social media, website layout, will improve your conversion rate.
Need help with your conversion rate optimisation, marketing strategy or reputation management? Get in touch with Blindseer today.